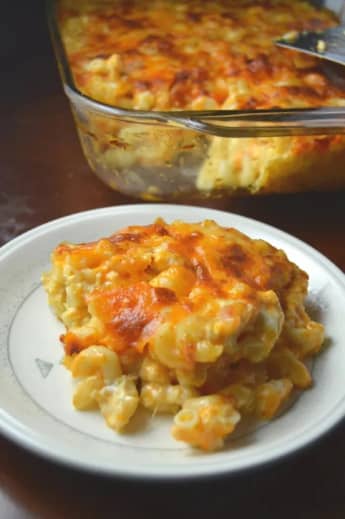 Ingredients
3 cups dry elbow macaroni
4 Tbsp salted butter
2 (370 mL/12 oz) cans evaporated milk
1/3 cup milk of choice
2 large eggs
1/4 tsp garlic salt
4 cups cheddar cheese, shredded
2 cups mozzarella cheese, shredded
1 tsp paprika
Instructions
Bring a large pot of water to a boil. Add salt and macaroni, and cook until al dente. Drain and return to the pot. Add in the butter and stir until the butter is melted. Set aside.
In a large bowl, mix together the evaporated milk, milk, eggs and garlic salt until fully combined. In a separate bowl, mix together the cheeses.
Preheat the oven to 375°F. Lightly spray a 9×13 inch baking pan.
Layer 1/3 of the macaroni, then 1/3 of the cheese. Repeat with the remaining macaroni and cheese mixture. Pour the milk mixture over top. Sprinkle the paprika evenly on top.
Bake in the preheated oven for 25-30 minutes.