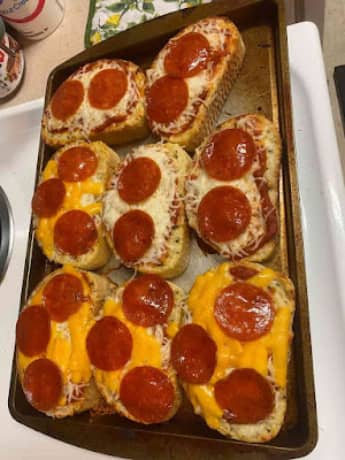 INGRADIENT
12 oz. Pkg.Of Rotini.
24 oz box. Of pizza sauce.
1 cup diced pepperoni.
½ cup whole pepperoni.
2 ½ cups. Mozzarella cheese – grated.
1 teaspoon of oregano – dried.
INSTRUCTIONS
Increase the temperature in the oven to 350 degrees F. Spray a pan with nonstick cooking spray, then set it aside while you prepare the rest of the ingredients.
The next step is to prepare the pasta by cooking it according to the recommendations on the box.
Drain, then return the liquid to the pan. Add pizza sauce, chopped pepperoni and 1½ cups of mozzarella cheese. After mixing, pour the contents into a casserole dish.
To finish your dish, sprinkle the last cup of cheese on top. After that, top the pizza with whole slices of pepperoni and oregano.
Bake for seven to ten minutes, or until the cheese has melted, whichever comes first. Remove from the oven and serve to Enjoy !