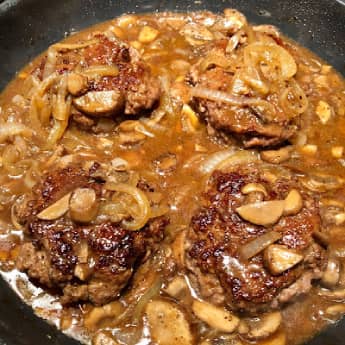 Ingredients:
1-1/2 lb. ground beef (80/20 is best)
2 tablespoon olive oil
salt
pepper
For the gravy:
2 tablespoons butter
1 large yellow onion, thinly sliced
1/2 teaspoon salt
1/2 teaspoon black pepper
1/2 teaspoon onion powder
1/2 teaspoon garlic powder
1/2 teaspoon dried thyme
1/2 teaspoon Montreal steak seasoning
1-1/2 cups baby bella mushrooms, thinly sliced
1 teaspoon cornstarch
1 cup low-sodium beef broth
2 tablespoons low-sodium soy sauce
2 teaspoons yellow mustard
2 teaspoons apple cider vinegar
chopped fresh parsley (optional)
Directions:
Handling lightly, form ground beef into 4 patties. Don't overwork the beef.
Heat a large skillet over medium-high heat and add olive oil. Salt and pepper burgers.
Cook burgers about 3 minutes or more, until one side is deep brown. Turn burgers over and cook until desired doneness. Remove from pan and set aside.
Reduce heat to medium. In the same skillet you cooked the burgers in, melt the butter. Add onions about 4 minutes. Stir occasionally, scraping up the browned bits in bottom of pan. Sprinkle with salt, pepper, onion powder, garlic powder, thyme and cajun seasoning.
When onions are very tender, add mushrooms and stir to combine. Cook about 2 minutes more. Add cornstarch and stir to combine. Reduce heat to simmer and add beef broth, soy sauce, mustard and vinegar. Continue cooking, stirring until sauce thickens, 4 or 5 minutes more.
Return burger patties to pan and spoon gravy over them. Top with parsley and serve
I normally buy extra-lean ground beef, but Mommy said much of the flavor comes from the beef drippings so she uses the 80/20 mix here. If you are feeding 5, just make the burgers a little smaller.