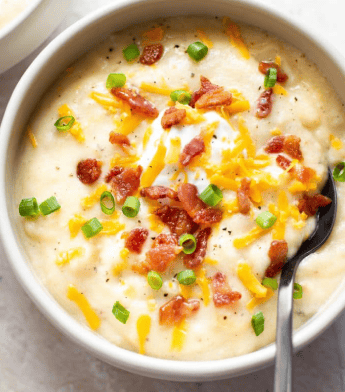 Ingredients
4 baking potatoes
2/3 cup butter
2/3 cup flour
6 cups milk
1 cup green onions, chopped
3/4 teaspoon salt
1/2 teaspoon ground black pepper
12 bacon slices (I like to use a little bit extra), chopped
5 ounces cheddar cheese, shredded
1-8 ounce container sour cream
Directions
Bake potatoes for 1 hour in a 400 degree oven.
Once baked, scoop out the inside of the potatoes and set aside (see the note below to learn how to utilize the potato skins)
Cook the bacon. Place cooked bacon on a plate lined with a paper towel to drain off the grease.
Melt the butter in a large skillet over medium heat. Stir in the flour to make a roux. Cook for about 1 minute, stirring constantly, making sure the roux is creamy before adding the milk. The roux will turn slightly brown.
Gradually pour in the milk while stirring until the soup mixture begins to thicken (your roux should not have any lumps; if it does, smash them with a spatula to help it dissolve).
Once the roux has thickened, add the potatoes, green onions, salt, black pepper, bacon, and cheese. Stir well and continue to cook for about 15 minutes (this allows the flavors to blend).
Mix in the sour cream until well blended. Remove from heat.
Serve in a bowl topped with shredded cheddar cheese, bacon, green onions, and a dollop of sour cream.
Note:
Don't waste the delicious potato skins; people pay money at restaurants for these as an appetizer. Sprinkle the potato skins with cheese, bacon, and green onion. Bake in the oven until the cheese is melted. Remove and serve with a dollop of sour cream.