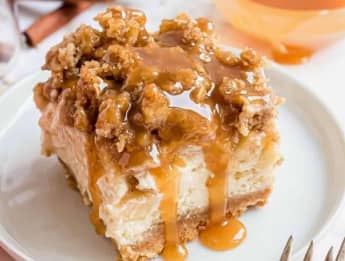 Ingredients
2 cups flour
1/2 cup brown sugar
1 cup butter, (2 sticks) cut in small chunks
2 (8-ounce) packages cream cheese, softened
1/2 cup sugar + 2 tablespoons separate
2 eggs
1 teaspoon vanilla extract
3 Granny Smith apples, peeled, cored and chopped
1/2 teaspoon cinnamon
1/2 cup caramel topping
Streusel Topping:
1 cup brown sugar
1 cup flour
1/2 cup oats
1/2 cup butter, cut in chunks (1 stick)
Instructions
Pre-heat oven to 350 degrees F.
Combine flour, brown sugar and butter chunks then use hands to combine until crumbly.Press evenly into a baking pan and bake for 20 minutes until lightly browned.
Mix cream cheese and 1/2 cup sugar until blended then add eggs and vanilla. Pour over crust
In a separate bowl stir together chopped apples, 2 tablespoons sugar and cinnamon.
Pour over cream cheese mix evenly
Combine all streusel toppings (using hands again with butter chunks to make into a crumble) and then cover apples.
Bake for 30 minutes
Cover with caramel drizzle
Enjoy!