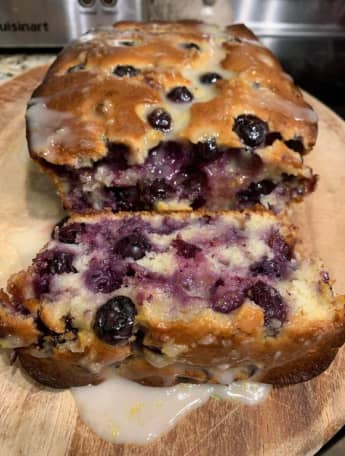 Ingredients:
1/3 cup melted butter
1 cup white sugar
1/4 cup freshly squeezed lemon juice
2 eggs
1 and 1/2 cups all-purpose flour
1 teaspoon baking powder
1 teaspoon salt
1/2 cup milk
2 tablespoons grated lemon zest
1 cup fresh or frozen blueberries
2 tablespoons all-purpose flour
Instructions:
Preheat oven to 350 degrees F (175 degrees C).
Butter an 8×4 inch loaf pan, line the bottom and two sides of the pan with the parchment paper, as shown in the photo.
In a mixing bowl, beat together butter, 1 cup sugar, lemon juice and eggs.
In a separate bowl, combine flour, baking powder and salt; stir into egg mixture alternately with milk.
In the same bowl where you combined flour, add blueberries and toss them in 2 tablespoons of flour. This will help prevent blueberries from sinking.
Fold in lemon zest, and blueberries into the batter. Pour batter into prepared pan.
Bake in preheated oven for about 60 minutes, until a toothpick inserted into center of the loaf comes out clean. Cool bread in pan for 40 minutes on a wire rack.
Enjoy.