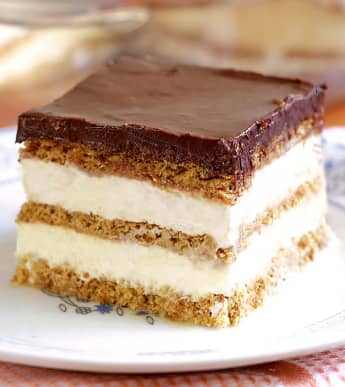 Ingredients:
2x pcts Tennis biscuits…
2 vanilla instant pudding
3 1/2 cups milk (I used skim)
250ml Orley whip
Ingredients for the frosting:
3 tablespoons of Cocoa
1 1/2 cups Icing sugar
3 tablespoons of butter (room temperature)
3 tablespoons of warm milk
Mix above ingredients till smooth. Add more Icing sugar if you like the frosting a little thicker. If it's too thick, just add a little more milk.
Directions:
Mix pudding and milk in a bowl. Blend together for about 2 minutes then fold in the cool whip.
Spray a 9 x 13 pan with non-stick spray. Place a layer of whole Tennis Biscuits on the bottom, then top with 1/2 the pudding.
Cover pudding with another layer of Tennis Biscuits, top with remaining pudding and another layer of Tennis Biscuits, then carefully spread the frosting on the biscuits.
Chill over night or for at least 8 hours.