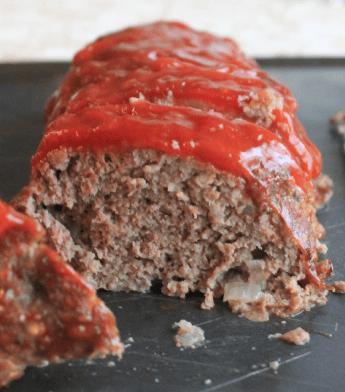 Ingredients
For the Meatloaf:
1 1/2 to 2 pounds ground beef
1 small onion or half of a larger onion, chopped
1/2 cup bread crumbs (I used Italian for extra flavor)
1/4 cup Parmesan cheese
1/4 cup parsley, chopped
1/4 cup milk
1 tablespoon garlic, minced (optional)
2 eggs, beaten
Salt and pepper
For the Glaze:
1/2 cup Ketchup
2 tablespoons brown sugar
1 tablespoon mustard
Dash of Worcestershire sauce
Directions:
Preheat the oven to 350 degrees F.
Place all of the meatloaf ingredients into a bowl, and using your (very clean) hands, combine all of the ingredients.
Then, in a separate bowl, mix together all of the ingredients for the glaze.
Remove the meat mixture from the bowl and form into a loaf on a pan or baking dish.
Spread about 1/3 of the glaze over the loaf.
Place the loaf in the oven and bake for 45 minutes.
Add about another 1/3 of the glaze after the 45 minutes, and then cook for an additional 15 minutes.
Once the loaf is done (internal temp of the meat should be 155 degrees and/or no longer pink), remove from the oven and you can either top with the additional glaze or save it for serving, which is what I like to do.
Slice it up, serve warm with the extra glaze.
Enjoy!