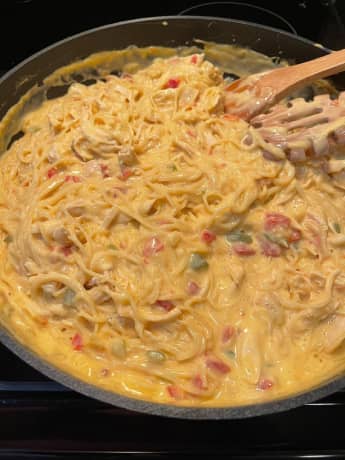 Ingredients:
2 cups cooked chicken (I use rotisserie chicken)
16 oz. dry spaghetti, broken in half
1 can cream of mushroom soup
1 can cream of chicken soup
2 cups shredded cheese (a blend of Italian cheeses is nice, but use your favorite)
1/4 cup finely diced green pepper
1/4 cup finely diced onion
1 jar (4 oz) diced pimentos, drained
1 can (14.5 oz) chicken broth
1/4 cup milk
Salt and pepper to taste (I did not add any salt- there seemed to be enough from the soups and broth)
1 cup additional shredded cheese for the top of the casserole (I like mild cheddar)
Directions:
Preheat oven to 350 degrees.
Cook spaghetti in lightly salted boiling water until the spaghetti is just barely done (al dente) and drain.
You don't want to overcook it- it's going to cook some more when you bake the casserole.
In a large bowl, combine all the rest of the ingredients (except for the last 1 cup of cheese) until combined.
Stir in the spaghetti and mix well.
Pour into a greased 13 X 9 pan and sprinkle with the remaining 1 cup of cheese.
Bake at 350 degrees for about 40 minutes, or until hot and bubbly and just starting to brown.
Enjoy!