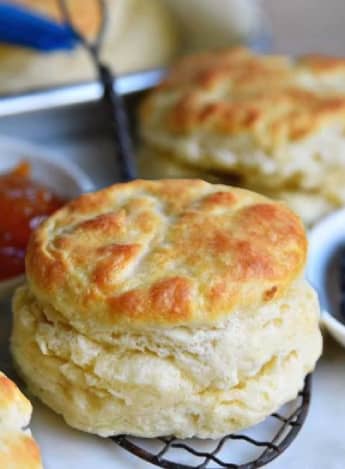 Makes about 8 – 10 biscuits
Ingredients:
2 C flour
1 T baking powder
1 t salt
1 t sugar
1/4 t baking soda
4 oz (8 T) cold butter, cut into small pieces
1 C cold buttermilk
1 T melted butter for brushing on the tops
Directions:
Preheat oven to 425 degrees F.
Prepare a baking sheet with parchment or a silpat.
Sift the flour, baking powder, salt, sugar and baking soda together in a bowl.
Add the small pieces of cold butter and, using your hands, toss to coat all the pieces of butter with flour.
Working quickly with a pastry blender or your fingers, pinch and flatten the butter into the dry ingredients until the mixture looks like pebbles the size of peas with some smaller crumbs.
Make a well in the middle of the flour mixture and pour the cold buttermilk into the well.
Using a fork, fluff the flour into the center and gently stir and turn the ingredients until you have a soft dough.
Lightly dust the work surface and your hands with flour and turn out the dough.
Give it a gentle kneading; about 3 – 4 turns should be enough to consolidate the dough.
Pat it into a round about 1 1/4″ thick. Use a 2 1/2″ cutter to form the biscuits, pushing straight down and lifting up to cut rather than twisting.
Place the biscuits on the prepared baking sheet.
Gather the scraps and stack them.
Gently press and pat them into a piece about 1 1/4″ thick and cut out additional biscuits.
Brush the tops lightly with melted butter.
Bake the biscuits for 11 – 14 minutes or until they are puffed and the bottoms are golden brown.
Serve warm.