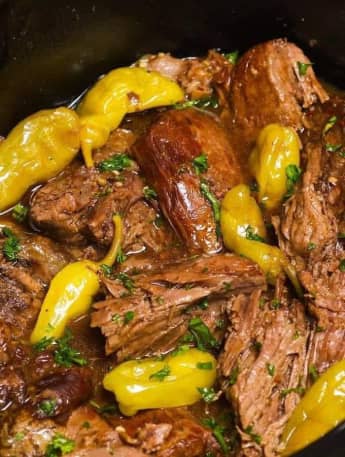 Ingredients:
3-4 lb. beef chuck roast
5-6 medium carrots, peeled and cut into large dice
10 pepperoncinis
1 packet brown gravy mix
1 packet Ranch dressing mix
8 whole garlic cloves, peeled
3-4 tbsp. unsalted butter
DIRECTIONS
1.Preheat the oven to 250F.
2.In a large Dutch oven or oven-proof pot, distribute the chopped carrots and garlic cloves evenly over the bottom. Place the chuck roast on top of the carrots.
3.Sprinkle the packet of brown gravy mix and packet of Ranch dressing evenly over the top of the roast.
4.Place the pepperoncinis and butter on top.
5.Cover the pot and place in the oven. Roast low and slow for 3-4 hours or until the roast is very tender and juices have formed.
Serve as is or with some pasta or roasted potatoes on the side. Garnish with chopped parsley.
3-4 lb. chuck roast
Jarred pepperoncinis.
If you're not a fan of pepperoncinis, feel free to use less, but don't use none. Got it?
Ranch dressing (0.4 oz.) and brown gravy (0.87 oz.) packets
Place the roast on top of the chopped carrots and garlic, sprinkle with the
Ranch dressing and gravy packets, arrange the whole pepperoncinis on top,
and top with the butter.
Cover and roast at 250F for 3-4 hours or until the beef is super tender.